Sydjysk Marineservice er forhandler af bådmotorer fra Honda Marine og Mercury. Vi har påhængsmotorer på lager på hhv. 2,3 HK og 4 HK samt 115 HK og indenbordsmotor med 300 HK.
Vi kan levere alle størrelser indenfor bådmotorer.
Og vi kan tilbyde komplet montering – samt service og reparationer.
Kontakt Martin hos Sydjysk MarineService på tlf. 73323481.
HONDA – Model BF2.3 SCHU – 2,3 HK
Kortbenet – Luftkølet – Slyngkobling – Letvægt
Honda BF2.3 har en lav vægt, er let at transportere og er ideel til små både, gummibåde og kanoer. Med slyngkobling og 360 graders styring og den indbyggede tank får du en let påhængsmotor, med det bedste vægt-/ydelsesforhold, som er meget let at betjene.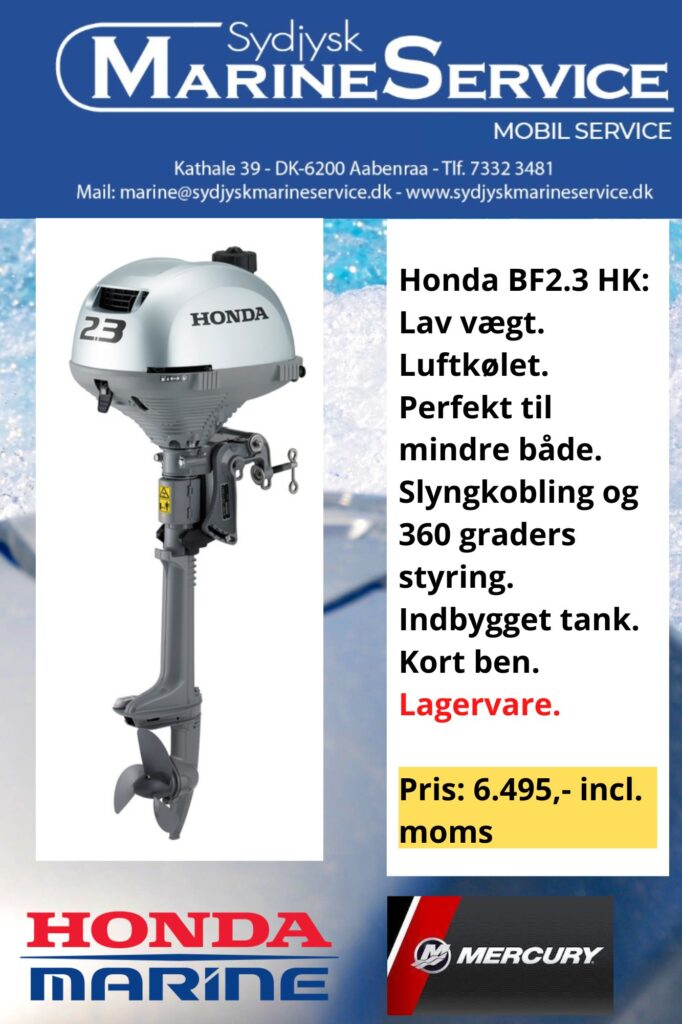 HONDA MODEL BF4 SHNU – 4HK
Kortbenet – Letvægt
Den nye motor på 4 HK tilbyder det bedste indenfor Hondas teknologier i kompakte motorer. Med sit nye stilrene design og gennemtænkte detaljer er Honda BF4 valget for dig som ønsker lidt mere. Under udviklingen har Hondas ingeniører haft fokus på at motoren skal være let at betjene og bære men samtidig have den kraft og fornemmelse man opnår med en større påhængsmotor. Det specialudviklede motorophæng fjerner vibrationerne og dekompressionen gør motoren usædvanligt let at starte. Alle modeller har en stor indbygget tank.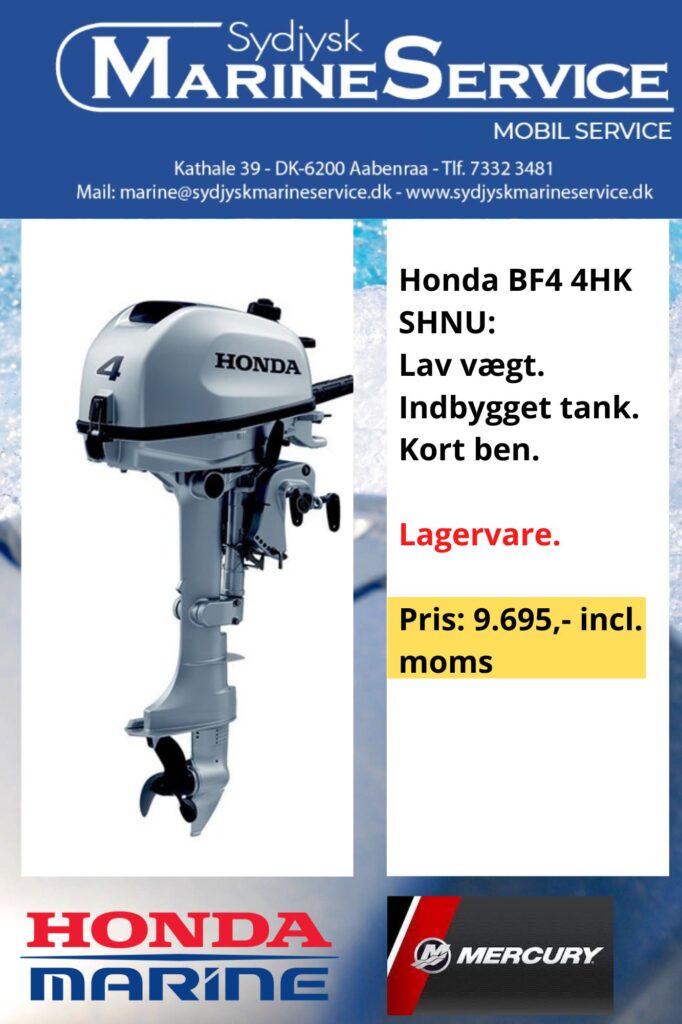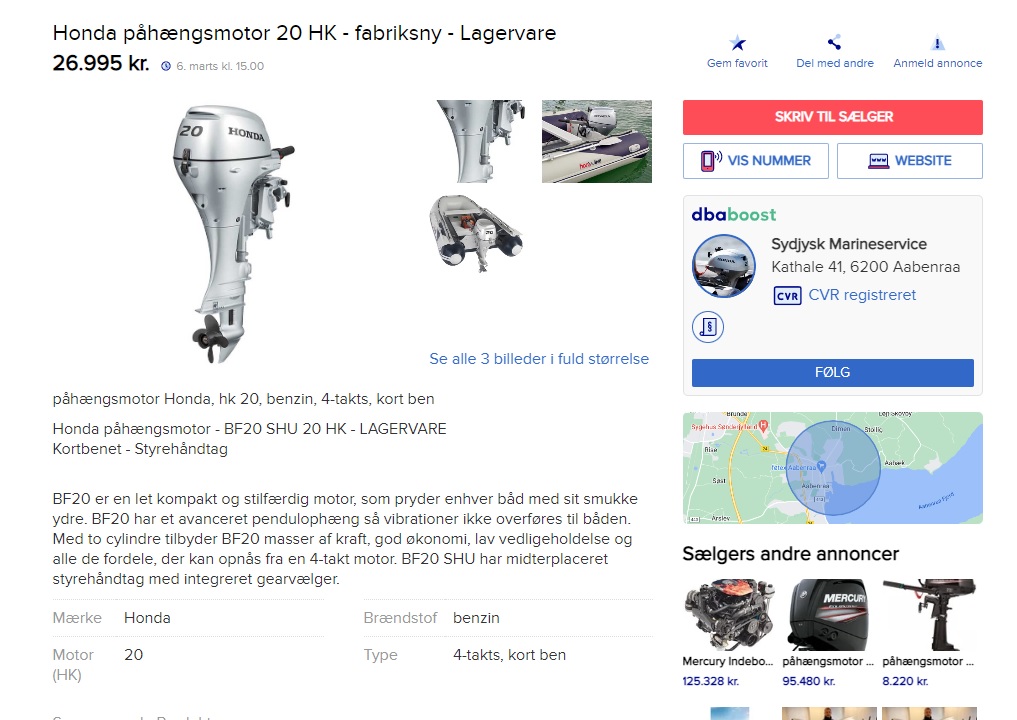 Mercury Indenbordsmotor REMAN-350 MPI ALPHA 300 HK
350 MPI Alpha Sterndrive. 300 HP @ 5000 RPM, 350 Cubic Inch Fully Dressed Marine Engine. V8. Sælges med 2 års Mercury Marine garanti. Engine Features: Special Flame Graphics, Multi‑Port Fuel Injection Using Cool Fuel II, Dry Joint Exhaust, Nodular Iron Crankshaft, Roller Camshaft, Vortec Cast Iron Cylinder Heads, Stainless Steel Valves, 9.4:1 Htpereutectic Pistons. It uses ECM 555 with Engine Guardian and is SmartCraft ready, 10‑Pin Harness. Runs on 87 Octane Fuel. NOTE: If used with an Alpha One (GEN I) drive, this engine requires a Seawater pump kit 46‑8M0139983 & serpentine belt 57‑865615Q03 (sold separately) for proper cooling. 300 HP Remanufactured Sterndrive Engine. Replaces 5.0L, 5.0L EFI/MPI, 5.7L, 5.7L EFI/MPI and 350 Mag MPI sterndrive engines.